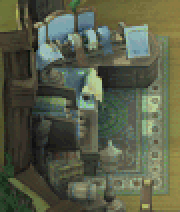 The workshop is one of the crafting areas, and it is used in making shields, headwear, footwear, and accessories. To be able to create accessories, you must first obtain the second floor of Sharance Tree by clearing the
Privera Forest
dungeon and traveling to the Univir Settlement. Once the second floor grows in,
Gaius
or
Raven
will offer to build a workshop for 3000G and 50 wood.
To obtain recipes in-game, one must eat Recipe Bread. These can be bought from Blaise for 300G each. They can also be bought as one of the random items from Yue at the upper floor of the inn when she's there. Sometimes a male traveller with a trench coat sells them in the inn as well, his prices are rather high. On the other hand, he appears late in the game, and he sells as much as you want.
As with all recipes, you are not required to know the recipe beforehand in order to actually craft. However, until you have the recipe (either by eating Recipe Bread or by successfully crafting the item) you will not know the % chance of successful crafting unless you calculate it yourself.
You can make recipes up to 9 levels above you, but they will have a 10% chance. For example, you can craft a Lvl 40 item while being Lvl 31 as minimum.
Unlike cooking, you will not lose your raw materials upon failure. You can use this to your advantange and level your workshop by repetedly attempting to craft something of a higher level. You will still get exp even if you fail. Just remember to keep your RP up.
Workshop equipment is primarily defensive and will not obtain attack properties like HP-draining or elemental affinities.
Shields
Shields
Item Name
Item 1
Item 2
Item 3
Item 4
Item 5
Item 6
Skill Lv
Small Shield
Iron
Iron
2
Bronze Shield
Bronze
Bronze
8
Round Shield
Bronze
Bronze
Iron
Iron
17
Umbrella
Iron
Iron
Speckled Skin
Stong Vine
Bird Wing
17
Heavy Shield
Iron
Iron
Iron
Hard Horn
22
Magic Shield
Bronze
Bronze
Amethyst
Quality Cloth
24
Tortoise Shield
Tortoise Shell
Tortoise Shell
Tortoise Shell
34
Bone Shield
Silver
Silver
Insect Jaw
Bull Horn
Bull Horn
36
Kite Shield
Silver
Silver
Gold
Gold
37
Chaos Shield
Silver
Silver
Scorpion Tail
Scorpion Pincer
Proof of Warrior
41
Monkey Toy
Cheap Cloth
Strong String
Wooly Furball
Wooly Furball
43
Knight Shield
Silver
Silver
Gold
Platinum
Bull Horn
50
Prism Shield
Platinum
Amethyst
Ruby
Emerald
Aquamarine
Sapphire
66
Magical Shield
Gold
Gold
Glue
Magic Powder
Magic Crystal
Magic Crystal
67
Element Shield
Silver
Silver
Platinum
Diamond
Magic Powder
Fairy Dust
69
Platinum Shield
Platinum
Platinum
Diamond
Dragon Tooth
Devil Horn
Devil Blood
75
Rune Shield
Platinum
Diamond
Dragon Tooth
Small Crystal
Fairy Dust
Fairy Dust
88
Accessory
The Cursed Charm improves a random stat from time-to-time to its wearer. It may also increases their morale, focus and awareness while in battle for companion characters.
Accessory
Item Name
Item 1
Item 2
Item 3
Item 4
Item 5
Item 6
Skill Lv
Cheap Bracelet
Iron
Cheap cloth
1
Charm
Cheap Cloth
Strong String
3
Field Gloves
Cheap Cloth
Quality Cloth
4
Pin
Iron
6
Bronze Bracelet
Bronze
Cheap Cloth
Cheap Cloth
10
Leather Belt
Fur
Fur
Speckled Skin
13
Aquamarine Ring
Aquamarine
15
Amethyst Ring
Amethyst
15
Emerald Ring
Emerald
15
Sapphire Ring
Sapphire
15
Ruby Ring
Ruby
15
Dark Ring
Skull
15
Leather Gloves
Cheap Cloth
Wooly Furball
Quality Cloth
Giant's Gloves
18
Earth Pendant
Silver Pendant
Earth Crystal
Earth Crystal
19
Silver Pendant
Iron
Silver
20
Silver Bracelet
Silver
Quality Cloth
Quality Cloth
25
Poison Ring
Bronze
Spore
Spore
27
Paralyze Ring
Bronze
Plant Stem
Plant Stem
28
Silent Ring
Bronze
Lamp Squid
29
Critical Ring
Silver
Hard Horn
Panther Claw
30
Happy Ring
Diamond
4-Leaf Clover
30
Magic Ring
Silver
Magic Crystal
31
Field Pendant
Silver Pendant
Wind Crystal
Wind Crystal
35
Gold Bracelet
Gold
Quality Cloth
Quality Cloth
39
Heart Pendant
Silver Pendant
Love Crystal
40
Star Pendant
Silver Pendant
Light Crystal
Dark Crystal
40
Power Gloves
Insect Skin
Insect Skin
Hammer Piece
Panther Claw
42
Handknit Scarf
Wooly Furball
Wooly Furball
Wooly Furball
Wooly Furball
Wooly Furball
Wooly Furball
43
Shield Ring
Gold
Hammer Piece
Bull Horn
Bull Horn
Fish Fossil
44
Sun Pendant
Silver Pendant
Fire Crystal
Fire Crystal
45
Curse Charm
Magic Crystal
Magic Powder
46
Platinum Bracelet
Platinum
Quality Cloth
Quality Cloth
Fish Fossil
50
Aquamarine Brooch
Aquamarine
Aquamarine
Aquamarine
55
Amethyst Brooch
Amethyst
Amethyst
Amethyst
55
Emerald Brooch
Emerald
Emerald
Emerald
55
Sapphire Brooch
Sapphire
Sapphire
Sapphire
55
Ruby Brooch
Ruby
Ruby
Ruby
55
Holy Amulet
Silver Pendant
Silver
Silver
55
Tear Pendant
Silver Pendant
Water Crystal
Water Crystal
58
Diamond Ring
Diamond
Diamond
60
Champion Belt
Gold
Proof of Warrior
Quality Fur
Silk Cloth
63
Diamond Brooch
Diamond
Diamond
Diamond
64
Silver Ring
Silver
Silver
Silver
65
Holy Rosary
Silver
Silver
Sparkle String
Sparkle String
68
Gold Ring
Gold
Gold
Gold
Gold
70
Talisman
Platinum
Platinum
Sparkle String
Sparkle String
71
Fluffy Scarf
Wooly Furball
Yarn Ball
Yarn Ball
Yarn Ball
Yarn Ball
Yarn Ball
72
Proof of Heroism
Gold
Devil Horn
Dragon Tooth
73
Proof of Wisdom
Gold
Magic Powder
Fairy Dust
74
Platinum Ring
Platinum
Platinum
Platinum
Platinum
Platinum
75
Lucky Strike
Critical Ring
Wolf Fang
Devil Horn
Dragon Tooth
78
Art of Defense
Platinum
Diamond
Tortoise Shell
Quality Fur
Dragon Tooth
Broken Box
90
Art of Attack
Platinum
Bull Horn
Wolf Fang
Devil Horn
Dragon Tooth
Skull
91
Art of Magic
Platinum
Magic Powder
Hood
Devil Blood
Small Crystal
Fairy Dust
92
Wind Ring
Platinum
Wind Crystal
Wind Crystal
93
Earth Ring
Platinum
Earth Crystal
Earth Crystal
94
Fire Ring
Platinum
Fire Crystal
Fire Crystal
95
Water Ring
Platinum
Water Crystal
Water Crystal
96
Courage Badge
Pin
Proof of Warrior
Glue
Light Crystal
Dark Crystal
Love Crystal
99
Head
Head
Item Name
Item 1
Item 2
Item 3
Item 4
Item 5
Item 6
Skill Lv
Handknit Hat
Yarn Ball
9
Focus Earring
Iron
Arrowhead
12
Fireproof Hood
Quality Cloth
Quality Cloth
Giant's Gloves
16
Hachimaki
Cheap Cloth
Quality Cloth
Cheap Bandage
Cheap Bandage
32
Fancy Hat
Cheap Bandage
Bird Wing
Fur
Fur
35
Silver Hairpin
Silver
Glue
38
Brand Glasses
Glue
Bull Horn
Fish Fossil
Hood
48
Gold Hairpin
Gold
Glue
53
Feathered Cap
Bird Wing
Fur
Fur
Quality Fur
Silk Cloth
Silk Cloth
61
Witch Earring
Gold
Fur
Silver
Iron
Magic Powder
Silver
65
Magic Earring
Silver
Silver
Ruby
Ruby
Magic Crystal
Magic Powder
82
Foot
Foot
Item Name
Item 1
Item 2
Item 3
Item 4
Item 5
Item 6
Skill Lv
Leather Boots
Fur
Fur
7
Wet Boots
Cheap Cloth
Cheap Cloth
Strong String
9
Piyo Sandals
Insect Skin
Insect Skin
Wooly Furball
10
Secret Shoes
Iron
Insect Skin
Insect Skin
11
Heavy Boots
Iron
Iron
Iron
Iron
Bronze
Bronze
14
Sneakers
Speckled Skin
Speckled Skin
Spore
Strong Vine
18
Silver Boots
Bronze
Silver
Giant's Gloves
Hammer Piece
26
Bone Boots
Dragon Bones
31
Strider Boots
Emerald
Emerald
Insect Jaw
Panther Claw
33
Skate Boots
Water Crystal
Water Crystal
Tortoise Shell
38
Snow Shoes
Iron
Strong Vine
Wolf Fang
Quality Fur
Quality Fur
43
Gold Boots
Silver
Gold
Gold
Proof of Warrior
Fur
47
Step Boots
Giant's Gloves
Giant's Gloves
Glue
Glue
Bull Horn
49
Knight Boots
Silver
Silver
Platinum
Shouder Piece
Quality Fur
Silk Cloth
51
Water Shoes
Strong String
Strong String
Sparkle String
Sparkle String
Broken Box
Broken Box
54
Sneak Boots
Cheap Cloth
Quality Cloth
Glue
Wooly Furball
59
Ghost Boots
Magic Powder
Magic Powder
Wolf Fang
Wolf Fang
Hood
64
Feather Boots
Insect Jaw
Glue
Bird Wing
Bird Wing
Fur
71
Iron Geta
Iron
Iron
Shouder Piece
Shouder Piece
Tortoise Shell
76
Rocket Wing
Silk Cloth
Silk Cloth
Silk Cloth
Devil Blood
Fairy Dust
Fairy Dust
85
Fairy Boots
Diamond
Diamond
Small Crystal
Fairy Dust
Fairy Dust
Fairy Dust
89
Misc
These items cannot be upgraded.
Misc
Item Name
Item 1
Item 2
Item 3
Skill Lv
Yarn Ball
Small Fleece
Small Fleece
Small Fleece
5
Yarn Ball
Medium Fleece
6
Yarn Ball
Large Fleece
7
Engagement Ring
Silver
Silver
Ruby
20
Notes
The Cursed Charm improves a random stat from time-to-time to its wearer. It may also increases their morale, focus and awareness while in battle for companion characters.
Companion characters can equip and be affected by any Workshop item that increases stats, elemental resistances/damage reduction, or status resistance.
The exception to the above is shields; shields are useless to companion characters. This is true even though some characters carrying shields in town (like Sofia with her Umbrella or Evelyn with her Monkey Toy).
Companion characters don't gain movement affects from equipped footgear. For example, a companion character will not gain waterwalking if you give him/her Water Shoes.
Also giving the other companion characters with accessories with non-obvious effect like the Happy Ring(which increases the chance of monster drops) or Handknit Scarf and Fluffy Scarf(which affects RP consumption) or the Pendants(which highten the abilities of ect. or Skill EXP this excludes the Star Pendant which increases the Level EXP and Silver Pendant that improves magical attacks).
Ad blocker interference detected!
Wikia is a free-to-use site that makes money from advertising. We have a modified experience for viewers using ad blockers

Wikia is not accessible if you've made further modifications. Remove the custom ad blocker rule(s) and the page will load as expected.