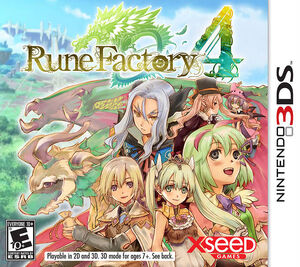 Rune Factory 4
(ルーンファクトリー4,
Rūn Fakutorī 4
) is a Simulation/Roleplay game developed by Neverland Co. and published by Marvelous AQL for the Nintendo 3DS handheld console. It was announced in Famitsu
on
June 29, 2011
. It is the sixth game in the Rune Factory Series series, and the first to be released on the 3DS. It has been released since
July 19, 2012
in Japan and
October 1st, 2013
in North America.
Just like in Rune Factory: Tides of Destiny and Rune Factory 2, Rune Factory 4 has two protagonists-a male and female one. The male protagonist's name is Lest, and the female protagonist's name is Frey. Rune Factory 4 is also the first game in the Rune Factory series to have the option of playing as a male or female at the beginning of the game.
There have been many improvements to the game system such as wearing pajamas, having slumber parties, a new request system, and much more. The plot has also been divided into three parts with the first and second part being part of the main plot, and the third part being a bonus plot. The protagonist doesn't start off with having amnesia this time, but does lose his/her memory only after the game has begun in a somewhat comical way.
Marvelous AQL has announced that Rune Factory 4 will not be released in Europe in the forseeable future, stating that, "While MarvelousAQL has made every effort to secure the title's release for this territory, it is, unfortunately, not possible to do so at this time."
Trivia
Rune Factory 4 is the first numbered entry (so far) to not have "A Fantasy Harvest Moon" labeled under it.
Content
Prince/Princess Point Rewards
Upgrading Armor/Weapons