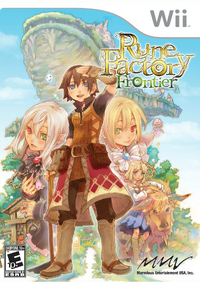 Publisher(s)
Marvelous Entertainment JP
Marvelous USA NA
Rising Star Games EU
Release Dates
November 27, 2008 JP
March 17, 2009 NA
April 1, 2010 EU
Rune Factory Frontier (ルーンファクトリー フロンティア, Rūn Fakutorī Furontia) is a simulation/role-playing video game developed by Neverland Co. and published by Marvelous Entertainment in Japan, Marvelous Entertainment USA and XSeed Games in North America, and Rising Star Games in Europe for the Wii video game console. On July 11, 2008, Marvelous Entertainment USA and XSeed Games announced that they were both bringing Rune Factory Frontier to North America, with a date of March 17, 2009.
This is the first game in the Rune Factory series not to be brought to North America by Natsume. It is the also first of the Rune Factory games to be played on the Wii. It is also the first game to be released within a few months, less than four months to be exact, making it the fastest released Rune Factory game in the entire series. It is the direct sequel of the original game. Unlike some were led to believe, this is neither a port nor remake.
Cooking Guide (RFF)
Weapons/Tools Guide (RFF)|Weapons/Tools Guide (Need to be created/or removed)
Videos
Links
Ad blocker interference detected!
Wikia is a free-to-use site that makes money from advertising. We have a modified experience for viewers using ad blockers

Wikia is not accessible if you've made further modifications. Remove the custom ad blocker rule(s) and the page will load as expected.